VAOSW Members Tour the Coastal Virginia Offshore Wind Project Turbines
Last week, Virginians for Offshore Wind (VAOSW) member and supporter, Dominion Energy, hosted a trip for VAOSW members and allies to visit the Coastal Virginian Offshore Wind (CVOW) pilot project turbines.
Located 27 miles off the coast of Virginia, representatives from multiple member organizations, such as the New College Institute, Virginia Beach Surf and Rescue Museum, WINDSdays, Shenandoah Valley Partnership, Downtown Norfolk Council, and Black BRAND were able to see first-hand the two offshore wind turbines and learn more about the CVOW project.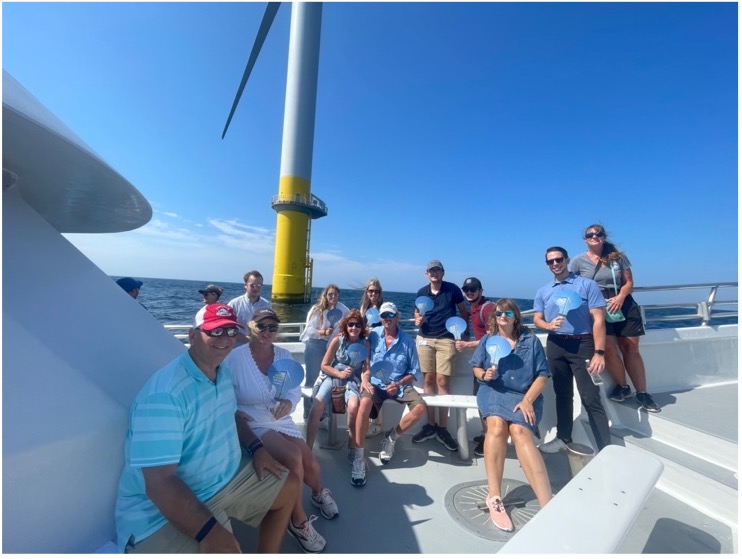 During the turbine tour, VAOSW members had the opportunity to hear from Dominion Energy representatives to get an update on the project and ask questions about the turbines. Members were also able to get insight about the project's progress as well as discuss ways to get more involved in and advance offshore wind for Virginia.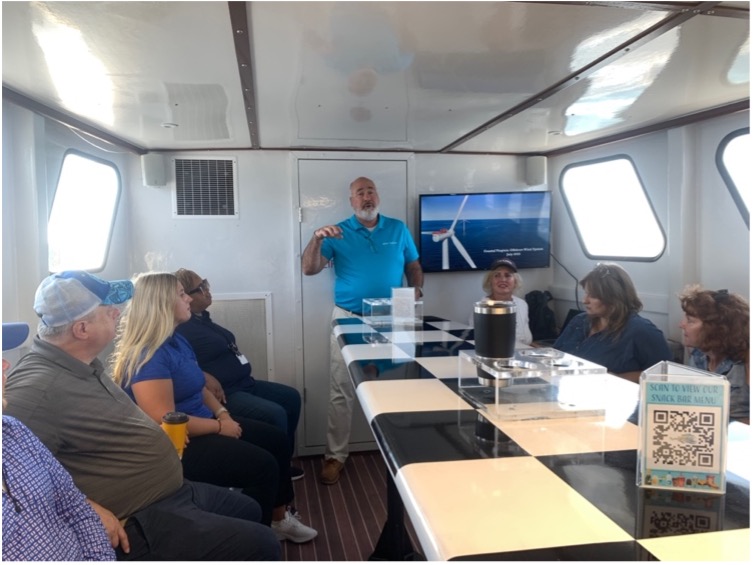 Once fully constructed, the 176-turbine offshore wind farm will diversify Virginia's energy supply and generate enough clean energy to power 660,000 homes. The CVOW project will transform the local economies in Hampton roads, generate millions in tax revenue for the state, and create good-paying jobs for all Virginians.
During the boat ride, members were also able to see the flourishing marine life out in the open waters and around the turbines.
After the tour, VAOSW members had the opportunity to visit the new Power of Wind exhibit, housed in a former life-saving center built in 1903 at The Virginia Beach Surf and Rescue Museum. The exhibit details ancient beliefs about wind and highlights Virginia's offshore wind project. There was also sophisticated weather equipment for visitors to see and use.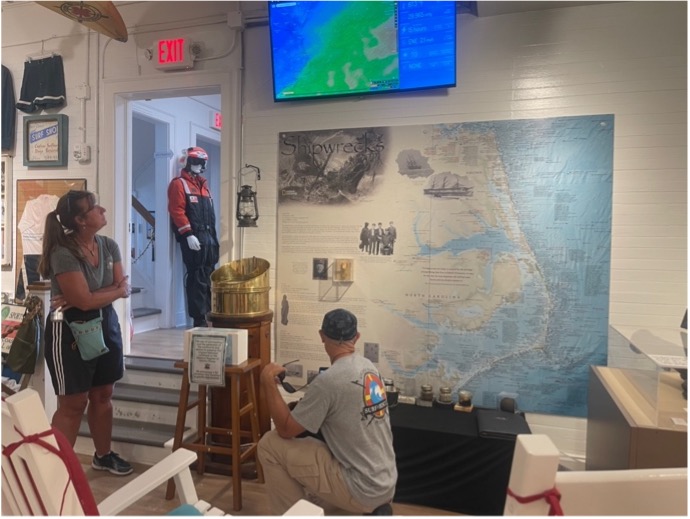 The CVOW project is putting Virginia on a trajectory to lead the nation in offshore wind development and become the U.S. offshore wind hub. VAOSW members are dedicated to this mission and supporting offshore wind development in the Commonwealth. The turbine tour further highlighted our members' efforts to bring clean energy and economic growth to Virginia.
###